Pakistani Weddings are exciting due to their vibrant culture, exquisite fashion and how can we forget incredible bridal makeup? The makeup in this era has evolved and become more creative while staying up to date with trends and techniques. Besides, you can find out a long list of salons offering bridal makeup. At Rejuve beauty salon and spa, we offer bridal makeup looks to make your day worth it. From bold to simple bridal makeup and hairstyles to dress settings, we can help you with all. Your big day is near, so what is the wait for? Book your appointment now.
Additionally, Pakistani bridal makeup looks are always stunning and effortlessly chic. If you're looking for inspiration for your bridal look, here are some of the top trending Pakistani bridal makeup ideas. 
Bold Eye Makeup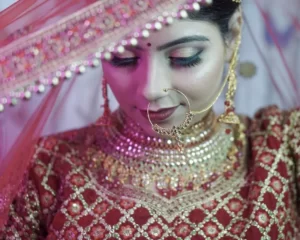 Wedding makeup is incomplete without defining eyes. Using bright, bold colors, you can create a mesmerizing eye look. However, from the shades of blue and green to purple and red, you can use a variety of colors to make your eyes pop. You can also use a combination of shimmery and matte shades to give more glitter. Similarly, add some glitter and sparkles to make your eyes stand out even more. 
Classic Red Lip
The classic red lip is a timeless look that never goes out of style. For traditional makeup, brides mostly opt for red lips. However, you can visit the makeup parlor to get your makeup done. To create this look, apply a lip balm and create a smooth outer lip layer. Fill it with dark red color, and to give it more of a dramatic look, consider adding lip gloss on top of it.
Winged Eyeliner
Winged eyeliner is a trending makeup look that never goes wrong. The classical eyeliner shape extends beyond the outer corner of the eye in upwards and downward directions. A dramatic makeup look is popular among brides and bridesmaids. Furthermore, it can be paired with other eye makeup looks, such as smokey eyes or glitter eyes. This look can be created with the help of liquid, pencil, or gel eyeliner. 
Smokey Eyes
With the gorgeous wedding makeup at Rejuve makeup salon, you can become a trendsetter bride. Indeed, smokey makeup always looks classy and nice; with a bit of twist, you can attract all eyes. Experiment with colors and achieve your go-to look for the wedding. Besides, shimmery or colored eyes are all perfect and our favorite. It is time to glam your look with smokey eyes and let the town talk about your charming makeup.
Nude Lip Shade
The nude lip shade gives a vintage, low-maintenance and glamorous look. You can find the bridal makeup price at our salon. Moreover, the nude lip depends on the person-to-person following their natural skin tone. It is essential to choose a lighter lip shade compared to your natural lip color. People with fair skin can use pale pink or beige shades, while medium tone or olive skin chooses caramel or mauve shade. For darker skin tones deeper shades of brown work best.
Pink Blushed Cheeks
With bridal eye makeup, you need a subtle blush. Generally, pink is a soft and beautiful shade that adds a flush of color naturally to your cheeks. You can either use the pink shade or any neutral shade of pink color. Wedding makeup looks more beautiful with a touch of natural aspects. Keeping you elegant yet adding a touch of bridal blush. A makeup look that adds an edgy texture to your cheekbones while lifting up your dress and face shape can make you look younger and more attractive.
Colored Eyeliner
Why always black eyeliner? Switching to colored eyeliner is a game changer. If you are willing to experiment with a new look, then color eyeliner is a heads-up for you. Black is always the first choice, but you can always say no to monotony on your big day and opt for something different and unique. There are a number of colored eyeliners available. You can match the liner with your glamorous outfit. Apply it beautifully, and become the center of attraction. 
Glitter Eyes and Lip Gloss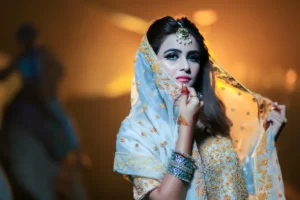 A deadly combo of glittery eyes and glossy lips is a trend. There is no better combination to opt for on your big day. It gives a more natural and refined look while balancing out everything. Besides, it gives you a bold statement and adds shine to your look. A light layer of base eyeshadow and glitter on top of the matching outfit color works best. To complete the look, add a few coats of mascara and some glittery lip gloss. 
Here are some of the trendy makeup ideas we have combined for you to glam your wedding day. You can find all the makeup looks, including dramatic, natural, bold and soft in our beauty salon. To get the latest makeup on your wedding, book an appointment.