Simple Makeup Tips
Makeup has become an essential part of many people's daily routines. If you follow simple makeup tips, you'll be able to keep your makeup minimalist. Moreover, it is perfect to opt for a basic start if you are new to makeup or prefer a more natural look. Applying a perfect tone of foundation, blush, and lipstick can do wonders for your face. It not only makes you look pretty but it will also enhance your facial features.
The good news is that achieving a simple makeup look doesn't have to be complicated or expensive. Here, in this blog, we'll share some tips and tricks to help you achieve a simple makeup look that will enhance your natural beauty. So? What are you waiting for? Keep scrolling and learn simple makeup tips to use in your daily routine.
Cleanse And Moisturize Your Skin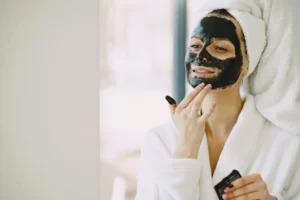 Before applying any makeup, it's important to start with a clean slate. Dirt on the face with a layer of makeup can cause acne. However, it is mandatory to cleanse your face before applying makeup and likewise, cleanse after the removal of makeup. For instance, you can use a gentle cleanser to remove any dirt and oil from your skin, and then apply a moisturizer to keep your skin hydrated. You can buy skin care products according to your skin type. Find out which product is suitable for your skin, and then make a habit of using it religiously. Additionally, by using a moisturizer your makeup goes on smoothly and lasts longer throughout the day.
Apply A Lightweight Foundation Or BB Cream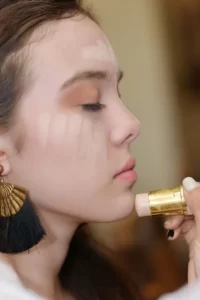 After moisturizing, it is essential to apply sunscreen. However, it can later be followed by the lightweight foundation or BB cream. For simple makeup for beginners, it is ideal to apply light coverage foundation which gives a natural touch. Also, you can opt for BB cream which also provides light coverage. The light coverage products are designed to even out your skin tone while still allowing your natural skin to show through. You can choose a shade that matches your skin tone and apply it with a brush or sponge for an even finish. You don't need to apply a lot of product but a small amount can do wonders on your face. 
Conceal Blemishes and Dark Circles
Dark circles can happen through less sleep, or spending much time on the screen. Well, it is normal to have dark circles. On the other hand, blemishes are caused by acne. Popping pimples can leave a mark on your face which takes a long time to vanish. But, for a quick fix, you can follow these Simple Makeup Tips steps to conceal the spots. However, to cover the blemish and dark circles use a concealer to hide them. You can choose the concealer shade that matches your bb cream or foundation then apply it under the eye with a brush or finger. Also, apply it on the blemish area and finally blend it for a seamless finish.
Give Your Cheeks A Pop Of Color
Adding a touch of color to your cheeks is the best way to achieve natural simple makeup. Moreover, it adds a healthy glow to your complexion. You can either use a cream blush or a powder blush of light color. For applying a blush smile a little to find the apples of your cheek. Now with the help of a brush apply the blush and lift it upwards gently. Take a small amount of content and see how much pigmentation you want. This is a great way to achieve color in your cheeks in a very realistic manner.
Enhance Your Eyes With Mascara
The use of mascara can enhance the appearance of your eyes. By application of mascara, the eyelashes appear longer and darker, and the whites of the eyes appear brighter due to the contrast. The simple makeup for girls, it is always best to start with traditional mascara. Moreover, the mascaras work best for lengthening and separating eyelashes. If you want longer and fuller lashes, choose a mascara that adds volume and length.
Apply Eyeliner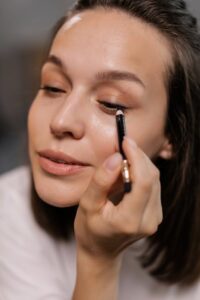 Simple makeup for a party or any occasion, eyes look incomplete without eyeliner. The eyeliner simply beautifies your eyes and makes them look bigger. Additionally, adding eyeliner to a face is powerful as it makes your eyes more prominent and gives a lasting impression. With the use of eyeliner, you can define the shape and color of your eyes to their fullest. Either you can apply a thick or thin layer, or use a pencil or liquid eyeliner to make your eyes marvelous. 
Finish with a natural lip color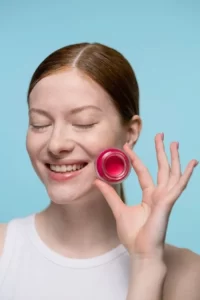 You can complete your simple makeup look by choosing a natural lip color. But before applying a lip color, it is essential to apply lip balm. The lip balm gives a moisturizing to soothing feel to your lips. Moreover, after applying lip balm you can easily apply a lip color that lasts longer and gives a smooth texture to your lips. Choose a  tinted lip gloss or lipstick in a shade that complements your skin tone for daily wear. Apply it with a brush or your fingers for a subtle, natural finish.
In conclusion, achieving a simple makeup look is easy and can be done with just a few basic products. By following these tips you can enhance your natural beauty and feel confident in your skin. Never hesitate to experiment and find what works best for you when it comes to makeup. Makeup should be fun and make you feel good, so don't be afraid to have fun with it.