The best facial skin care treatment improves the health and appearance of your face. Over the years skin treatments for the face have become increasingly popular with a variety of options available. However, these treatments are part of our beauty routine giving a glow to your skin. The number of treatments available in the market can be confusing, hence it is essential to know which treatment is suitable for your skin.  
At Rejuve Beauty Parlor a wide variety of skin care treatments are offered based on your skin type and concerns. In this blog, we will discuss the best skin care treatment including Deep Cleansing Facials, Hydrating & Rejuvenating Facials, Lifting & Firming Facials, Super Skin Facials, and Dermabrasion. Read the entire blog to find out the benefits and which treatment is best suited for different skin types.
Deep Cleanse Facials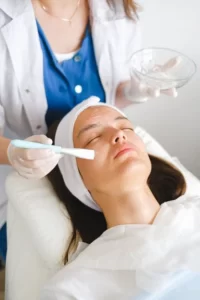 The popular deep cleanse facials involve cleansing of skin deeply to remove dirt, oil, and other impurities. Additionally, this treatment is considered suitable for oily skin or those who suffer from acne. The deep cleanse helps unclog pores and prevent breakouts. The deep cleanse removes all the impurities that remain on the skin for a longer time period. The procedure includes the use of steam that opens up stubborn pores and releases the buildup of sebum and dead skin cells. The next step includes the exfoliation of the skin which removes the remaining impurities from the skin's surface. At last, the mask is applied to moisturize and hydrate the skin. This facial makes your skin feel clean, fresh, and relaxed. So, if you are suffering from acne, breakout, oily skin issues, or blackheads get a deep cleanse facial now.
Hydrating & Rejuvenating Facials
If you are looking for skin treatments for flawless skin, this hydrating and rejuvenating facial is an ideal option. These facials involve hydrating your skin and bringing a soft, youthful texture to your face. Well, if you have dry, dull, or dehydrated skin issues you surely need to try this. Moreover, this type of facial focuses on restoring moisturizing skin and bringing back the natural radiance of the skin. The hydrating facials help in boosting collagen production and improve skin texture. For this particular facial first a gentle exfoliation is done which removes dead skin cells from the skin's surface. Then, a hydrating mask is applied which contains hydrating ingredients like hyaluronic acid, glycerin, and aloe vera which locks a moisturizer and nourishes the skin deeply. At last, the mask is applied that contains antioxidants to help fight off free radicals and protect the skin from damage.
Lifting & Firming Facials
Are you looking for a cosmetic treatment for the face? Is your appearance dulled by these fine lines and wrinkles? These lifting and firming facials are designed to lift and tighten sagging skin, giving you a more youthful appearance. The face treatment products contain collagen, elastin, and other ingredients that help tighten and firm the skin. The treatment procedure includes multiple massage techniques which improve circulation and stimulate the production of collagen and elastin. Further, these facials use an effective clinical treatment that consists of four progressive steps that work together to cleanse, hydrate, revitalize, and firm the skin. As a result of these procedures, the skin looks brighter, healthier, and more rejuvenated. You can get this treatment before any special event or wedding. 
Super Skin Facials
Ultimate skin rejuvenation can be gained through super skin facials. It is time to bring back the youthful glow on your skin with our super facials. Facial Skin Care Treatment are game changers while using the latest technology that works in skin tightening and adding tone to your skin texture. You might be wondering who can opt for such treatment. For instance, this treatment is ideal for various skin concerns including acne, pigmentation, aging, and dryness. With its 3-step process, it will leave your skin feeling revitalized and refreshed. First, enjoy a gentle exfoliation to remove dead skin cells and reveal a brighter complexion. Then, facial skin care treatment experience the power of oxygenation as your skin is infused with vital nutrients that will leave you looking and feeling your best. Finally, deep facial rejuvenation will give your skin the boost it needs to truly shine. These facials are also customized according to the individual skin concerns, with all the benefits it is an excellent choice for skin treatment. For long-lasting results, you can follow up with the best skincare routine and keep your skin flawless.
Dermabrasion 
Dermabrasion is a more intensive facial treatment that involves the numbing of skin to remove the outer layer of skin. Additionally, this treatment is excellent for individuals with deep scars, pigmentation, sunburn, fine lines, and wrinkles. It is also suitable for those with acne-prone skin, as it can help to unclog pores and reduce the appearance of acne scars. The treatment process involves skin care products for women which ultimately gives a smooth skin texture. Further, this treatment is customized according to your specific needs, using a combination of dermabrasion, exfoliation, and mask application to achieve desired results.