Weddings of siblings are always exciting, especially for sisters. It is all about getting ready, wearing the best outfit, and glamorous party makeup. However, if the wedding season is just around the corner, it is time to start planning and thinking about your makeup looks. 
Moreover, regardless of whether you're headed to a wedding, a formal event, or a casual gathering, party makeup will look great. We have collected makeup ideas to take off your worries and help you with a decent look. Here are some mind-blowing looks you need to see. Don't forget to try them out at your next event.
Glitter Eye Look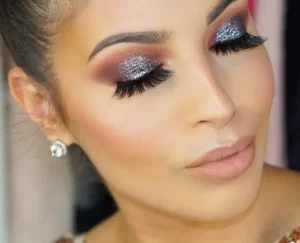 Eye makeup with glitter seems too much for you? Then you need to glam up your beauty game. These glittery eyes are the pull-off sparkle on your entire look. With soft nude lips, you can definitely go for glitter eyes. However, if you want to get professional eye makeup, then visit Rejuve beauty salon. Achieving a magnificent eye look enhances the complete makeup of your face. You can pair glitter with a soft, light matte shade and later put shimmer to make it bold. 
Glitter Eyeliner
Simple party makeup can be standout with shimmer, glitter, or an aesthetic sparkling eyeliner. Models and celebrities are always seen applying eyeliner with a pop of color or shimmer. Now, it is your call to add some glitter to your basic liner. This golden glitter eyeliner is an eye attractor. Surely, you don't want to miss out on the chance to attract eyes and talk about your makeup. 
Pink Party Look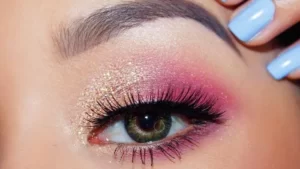 Pink is the most soft color, which looks excellent while paired with pink lips. The previous year was all about pink eye makeup, and truthfully, we are not over with the pink yet. Add a touch of pink hue to eye party makeup, and to make it more bright, sprinkle some of the glitters. Besides, keep the base clean and soft to make your eyes more vibrant. Further, you can add a natural blush with a touch of highlighter. 
Subtle Natural Glam
Sometimes it is best to go lighter in makeup, giving it a subtle natural look. Formal parties require a more polished look, so you'll want to focus on classic soft eyes with neutral tones and rosy cheeks. Moreover, bridal makeup can also go perfectly with soft glam, keeping minimalistic eyes and lips. All in all, subtle makeup is the most suitable for all occasions or parties. It simply enhances your features giving more focus to the contour, blush, and simple glamorous eyes. You can also pair it with a minimal party makeup hairstyle. Our makeup salon is phenomenal for you to carry a subtle look with an outstanding hairstyle.
Twist Winged Eyeliner
Give your eyes a statement look with the shimmery gold liner. A twist of black, filled with the gold, makes your face the center of attention. Party makeup looks don't need to be all glamorous, but a simple twist outside the box is the ultimate inspiration for your Instagram followers. Pair a winged eyeliner with a filled color of your choice and be the inspo for your audience. However this is a little tricky, but practice can make you a pro and adds a wow factor to your makeup look.  
Highlighter
Highlighter is commonly used to accentuate facial features such as the eyes, lips, or cheekbones. Highlighter is not only for the daylight but also adds a glow to your party makeup in the evening. Besides, it is applied to certain areas of the face, including the brows and nose. Add a subtle glow to your face by creating a beautiful 3-D dimension on your face.
Fluttery Lashes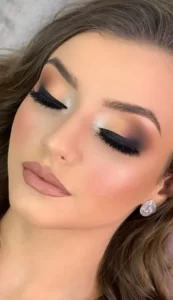 Pakistani party makeup looks are full of glam and wow factor. To go more detailed with your makeup look, don't forget to go heavy with your lashes. Long, volumizing fluttery lashes add instant drama and a bold look. Start with curling the natural lashes to give an extra lift to your eyes. Later, apply volumizing mascara to thicken your lashes. Make sure to go with waterproof mascara, keeping it all day long. We also offer semi-permanent lash extensions to enhance your lashes naturally.
Here we conclude all the party makeup ideas which are perfect for any occasion. Which one did you love the most? Makeup is about experimenting and finding the best look that suits you perfectly. Which look would you like to try at the next family wedding, don't forget to give us your review? 
You can also book your party makeup package at Rejuve makeup salon and get the look of your choice. Visit our Instagram page to know about party makeup prices and other services.