What is the most popular beauty treatment 2022?

Beauty Treatment 2022: 2021 has ended up with lots of changes in the life of people; it has created new ways for people to take care of their health, maintain their lifestyle and adopt natural and organic things in their daily routine; these changes in the countries has impacted on the life of men and women both. These new challenges have impacted almost all the sectors of Pakistan, and all the sectors directly related to humans are changing their work procedures.
Beauty Salons, Spa, and Skin Care Clinics are some of Pakistan's main sectors more directly related to women. In every era, women care about their beauty and skin to face life's challenges and maintain a work-life balance. Karachi is in the metropolitan city of Pakistan, where many women serve in different business sectors and maintain their glow and beauty; they adopt different treatments and therapies to keep their skin glowing. Below are some common treatments that women are adopting for skincare:
Facials and Skin Care
Hair Treatments
Hand and Foot Care
Nails and Eyebrow
Complete Body Treatment
Facials and Skin Care
We have seen phenomenal growth in technology in every sector, similar to the case with the beauty sector. There are different types of equipment and products are used in the beauty sector that provides a revolutionary impact on the skin; there is one more important thing to notice that these treatments and use of the equipment on the skin depend upon the nature of the skin, so it is essential to consult with an expert before applying it on your skin. Deep Cleanse Facials, Hydra Facials, Lifting & Firming Facials, Dermabrasion, Super Skin Facials, Dermaplaning, Skin Peels, Microneedling, Radio Frequency Firming & Tightening are some of the regular skin care treatments in Pakistan.
Hair treatments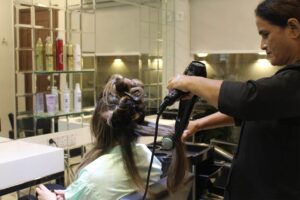 Hairs are one part of the beauty of women that complements and complete the look of women; if there is some imbalance in the hairs, it ruins all the look and creates a gap between the makeover and the overall look. To solve these issue; beauty salon and spa are using different hair treatment, which includes Hair Transformations, Keratin, Frizz-free Hair, Extenso, Hair Straightening, Hair Extensions, and to transform the overlook as a Hollywood celebrity, Hollywood Highlights has also introduced which acceptance is also seen in the working women category.
Hand and Foot Care
Hands and foot care treatment is the most common treatment usually adopted by many women monthly or twice a month; this treatment gives a stunning look to the hands and foot; these treatments complement the beauty and help relax stress and the soothing effect to the body. Some of the common treatments are Spa Manicure and Pedicure, Hand & Feet Gloss, Foot & Hand Massage; while these are advanced like Miracle Foot Detox and Hot Stone Massage are also common in the women for their hand and foot care.
Nails and Eyebrow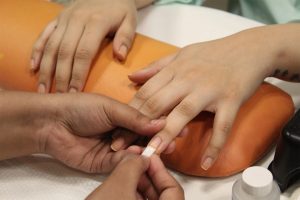 Nails and Eyebrows are the small part of the body, but to complete the overlook of a woman, these are considered essentials. Sometimes women even do not visit any salon or spa to take care of their nails and use different easy-to-use tools to take care of their nails. Working women sometimes prefer to get the treatment for their nails and get their eyebrows and upper lips trim twice a month to maintain their stunning look.
Complete Body Treatment
Women's loss of beauty is prevalent due to the challenging routine, stress, tension, and anxiety; sometimes, women in Pakistan do not get relaxed and get rid of these issues to maintain natural beauty. Spa and Salons in Karachi and other major cities of Pakistan provide complete body treatment that helps women take care of their overall beauty and maintain their glow. Hot Stone, Deep Tissue Massage, Pressure Point Massage, Cleopatra Body Scrub, Almond Brightening Scrub, and Guinot TechniSpa Body Slimming are complete body treatments in Pakistan by salons, body care clinics, spas, and massage centers.
Rejuve By Alia Farooq- Beauty Treatment In Pakistan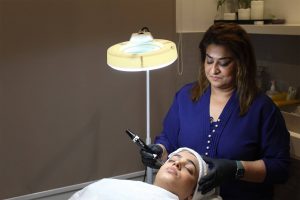 Getting these treatments is sometimes easy nowadays, but there is one crucial thing to consider: every skin has a different nature to react to any treatment; sometimes, the outcomes for the treatments are not even favourable or not even as per expectations. Rejuve By Aliya Farooq is the renowned Beauty Salon in Karachi, Pakistan, providing proper guidance to its clients and proving their expertise in this category. We wish glowing beauty to every woman and always prefer safety and health for getting any treatment. If you want to book  appointment, click and get your Beauty Treatment appointment.